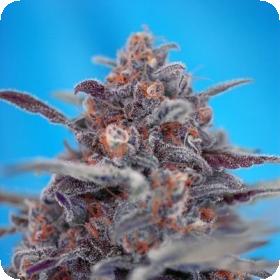 Devil Cream AUTO Feminised Seeds
Sweet Seeds Devil Cream Auto is an automatic Sativa/Indica/Ruderalis mix achieved by crossing a Dark Devil Auto with a Black Cream. The result is a high-quality strain that stands up well to a variety of climates and growing environments.
Devil Cream Auto started out with a mission: to create a super-producing auto that could be grown discreetly outdoors and yield several harvests over the course of a season. (depending on climate and growing conditions).
It is physically beautiful, flowers quickly, is an easy grow for first timers and is relatively squat to medium in size. Best of all, the yields are phenomenal for an automatic - huge numbers of tight delicious buds at full maturity.
Devil Cream thrives in a well-hydrated environment. It therefore lends itself well to hydroponic growing methods. Mature plants take on a luscious purple and lavender hue during the flowering period, and they produce large amounts of fragrant resin.
The quality is the same grown outdoors or in, but the amount of product when grown outside will be considerably less. Buy this strain if you have a good indoor setup or if you just want to grow a small stash for personal use.
Outdoor growers can plan for an 8-week flower time and should plant in April for an October harvest when growing in the Northern Hemisphere.
Users will enjoy the intensely fruity flavour of Devil Cream along with its rich and inviting aroma. Both have notes of citrus and sugar with a smoky incense undertone. The effect is powerful and long-lasting and offers a well-balanced, heady and physical euphoria.
This is the perfect strain for a late-day wind-down or a before-bedtime treat. THC count is described as medium to high for this strain.
Please remember that the growing of cannabis plants and the cultivation of seeds is illegal in some countries - please check the laws of your country and don't be growing any plants if it is against your country's laws.