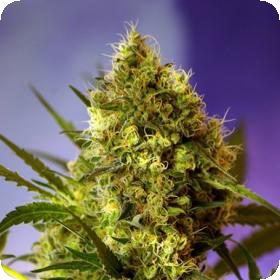 Big Devil Auto Feminised Seeds
Big Devil is a fantastic strain that is quite tall for an auto-flowering strain, usually growing to around 1 – 1.5 meters. This strain also produces a fantastic yield of dense, resinous buds.
The scent and flavour is a mix of fruit and incense with a hint of Skunk. This strain is also an award winner and won 1st place for Auto of the Year at the 2014 High Life Cannabis Cup.
Big Devil may have mysterious origins but it is a top quality strain with a powerful effect and a wonderful flavour.
Big Devil is both auto-flowering and feminised, meaning it will only grow into female plants and will flower automatically. Auto-flowering strains will flower of their own volition instead of in response to a light cycle.
This shortens the flowering time and the stature for the plant. Despite the small size of the plants they will produce impressive yields, making them ideal for bulk growers.
Feminised seeds will only grow into female plants, making them perfect for growers. Usually a regular crop will be half male and half female, meaning that around half of the plants will be wasted when the males are thrown away.
Feminised seeds can save a lot of time, space and money for growers.
This strain has a flowering time of 9 weeks and can be grown indoors, outdoors or in a greenhouse.
Remember that the cultivation of cannabis seeds is illegal in some countries, please check the laws of your country before attempting to cultivate cannabis seeds.
Genetics:
Unknown Hybrid x Unknown Ruderalis