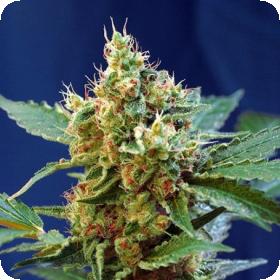 Cream Mandarine XL Auto Feminised Seeds
This impressive variety is rather tall-statured for an auto, with massive yield potential that comes from its incredible mixture of genetics, which have been carefully bred into this super-strain to stunning effect.
To produce this mind-blowing Indica-dominant variety, the gurus at Sweet Seeds took a healthy, vigorous Cream Mandarine Auto and crossed it with a Super Tai '98 elite clones.
As a result, the strain takes on some subtle Sativa-esque flavours as well as an impressively tall, wide-spread size. Despite this, the Indica side comes through in the strain's massive resin production and densely packed buds.
This strain tastes and smells of fresh, sweet citrus fruit, especially mandarins and clementines - with hints of sandalwood and spices.
Effects are nicely balanced between a deeply relaxing body stone and a mild cerebral buzz.