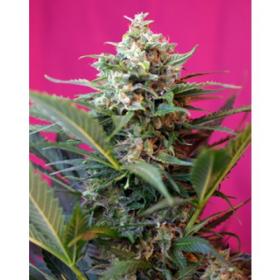 Big Devil XL Auto Feminised Seeds
Big Devil XL is a 3rd generation autoflowering seed and a force to be reckoned with.
This hybrid is made up of a cross between Big Devil #2 and the newly developed Jack Herer auto from Sweet Seeds and the result is a plant with increased height, especially for that of an auto strain, growing to around 100-160 cm tall and producing a large amount of branches.
The thickness and density of the resulting buds is also increased producing an outstanding amount of resin and an overall yield befitting the size of the plant itself. The finished plant is said to have a rather warm scent to it with a hint of citrus and decidedly potent effects.
Sweet seeds has made this strain a feminised seed. This variety of seed ensures that, not only would a grower find the plant a far simpler plant to grow, but a more time a cost effective choice as well, overall.
If using a regular seed pack, a grower would find that the plants produced would be a rough split of half males to half females. If the aim of the grower were purely to breed and create their own crop, then this would not be a problem.
However, were a grower to require only the use of the buds, produced only by the female plants, then these males would only be a waste of valuable growing space, since twice the area would be needed to produce the desired amount of females.
It would also be a waste of money, buying twice the number of seeds, and the time taken to dispose of the extra plants. The feminisation of the seeds, therefore, removes all of the extra hassle.
For a more experienced grower, it is also not actually a necessity for male plants to be used in the breeding process. Production of pollen in the female plants can actually be achieved by executing careful control over the female plants.
It is not advised that anything other than an experienced grower attempt this, however, if carried out in the fight manner, the result would be a crop of superior overall quality and uniformity.
This, alongside a shorter flowering period, thanks to its autoflowering properties, would make for an easy grow.
This plant has an expected flowering period of around 9-10 weeks. A grower could expect a yield of approximately 425-650 grams per square meter when grown indoors and 50-350 grams per plant in outdoors conditions.
Please remember that the growing of cannabis plants and the cultivation of seeds is illegal in some countries - please check the laws of your country and don't be growing any plants if it is against your country's laws.
Genetics:
Big Devil #2 x Jack Herer Auto