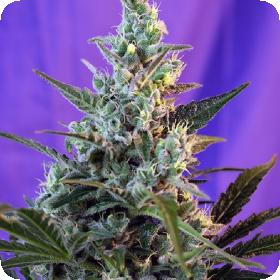 Sweet Skunk Auto Feminised Seeds
Sweet Seeds' Sweet Skunk has been likened to Green Poison, a well-liked Spanish strain. This strain being automatic, however, means it can be grown almost anywhere.
This new strain is made up of a mixture of the clone strain Green Poison itself and the autoflowering Big Devil #2. It has been back-crossed and refined over a few generations in order to hone the hybrid.
This seed grows in much the same way as Green Poison and is said to retain a similar taste, aroma and effect. However, with the autoflowering aspect in play, this allows the plant to grow in places that it would not have been able too normally.
The finished plant has been described as having the taste and scent of fruit and skunk, with very resinous buds that produce a dominant indica effect. This strain can grow to a height of around 60-90 cm and is therefore able to thrive in almost any indoor or outdoor space.
Since Sweet Seeds has made this strain an automatic feminised seed, it means that it would make it even easier for a grower. A regular seed will normally produce a fairly even split of male to female plants.
Were a grower to be producing the plants for breeding purposes solely, then this would be fine, but as the female plants are the only ones that actually produce the buds, outwith this scenario, the male plants are useless.
They mean that a grower would have to use twice the space in order to obtain the desired amount of females, along with spending twice the money and time on the seeds themselves.
This problem is eliminated with a feminised seed, since a grower is almost guaranteed that only female plants will be produced. It is also the case that for a more experienced grower, the male plants are not always essential to the breeding process.
Fertilisation can be achieved through attentive manipulation of the female plants in order to make them produce pollen. It is not recommended for less experienced growers, but when executed correctly, the overall quality and uniformity of the crop is often higher.
This combined with a shorter growing period, thanks to the strain's autoflowering properties, would make this a very easy grow for any farmer.
This strain can be expected to flower within 7.5 weeks, with an expected yield of approximately 40-50 grams per plant, depending on conditions.
Please remember that the growing of cannabis plants and the cultivation of seeds is illegal in some countries - please check the laws of your country and don't be growing any plants if it is against your country's laws.