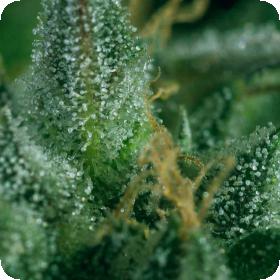 Skunk #1 x SCBDX Regular Seeds
Skunk #1 x SCBDX is a combination of two incredible strains, one of which is one of the most influential breeding strains in Holland. Skunk #1 was originally born in the USA and has been the base for hundreds of amazing strains.
This cross has all the quality of Skunk with the high CBD of SCBDX. Skunk is well known for its potency and powerful smell, which is made all the stronger by the added scents of citrus and pine.
This strain can be grown in a variety of environments and produces high yields. It can also be used as a medicinal strain, due to its high ratio of CBD:THC.
This strain is feminised and will only grow into female plants. It will also require a light cycle in order to flower. Feminised seeds are perfect for growers who don't plan on breeding their own crops.
For these growers the male plants are little more than a nuisance, and can harm the females of the crop. As a result they have to be removed from the crop, which means throwing away half of the plants in the crop.
This is a massive waste of time, money and effort that could be much better spent on the female plants. Feminised seeds also tend to be higher in quality and uniformity than regular plants.
This strain can be grown indoors, outdoors or in a greenhouse and has a flowering time of 60 – 65 days.
Remember that the cultivation of cannabis seeds is illegal in some countries, please check the laws of your country before attempting to cultivate cannabis seeds.