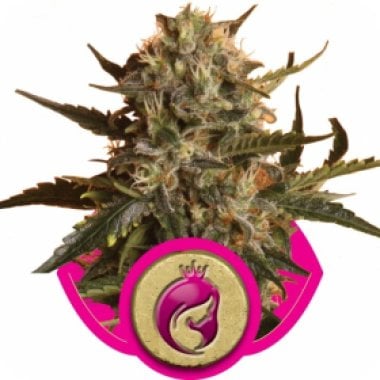 MOTHER GORILLA (FORMERLY ROYAL MADRE) FEMINISED SEEDS
Royal Madre is a new addition to the Royal Queen Seeds line. It is a cross of Jack the Ripper and Queen Madre and is exclusive to Royal Queen Seeds. It is around 75% Sativa and 25% Indica.
This particular strain has a high level of THC and a low level of CBD. This means that this is not an ideal medicinal strain but can still be used by those who are suffering from a lack of sleep or from stress, depression and anxiety.
This is due to its potent yet relaxing physical effects. However, THC in and of itself has been found to help with the symptoms of Parkinson's disease, Crone's disease, and multiple sclerosis.
Since this strain has a high cannabinoid content it grows rather dense buds. Denser buds are usually more resistant to mould and to pests when grown outside. The flavour of the strain is distinctly fruity and extremely enjoyable.
Royal Madre is also feminised which means it will only grow into female plants. These seeds improve the growing process dramatically for those who have no interest in breeding.
For these growers the male plants, which usually make up around half of a regular crop, are entirely useless. This means that they not only waste space and time, but they are also a waste of money.
With feminised seeds the grower can spend the same amount on twice the number of productive females.
Feminised seeds are not only an easier option but are also of a more impressive quality and level of uniformity than regular seeds. Around 80% of strains which have been feminised have shown marked improvement in both areas.
Feminised seeds are not just for growers however, they can be used by experienced breeders. It is possible for a female plant to release a pollen similar to the male. If this pollen is collected it can be used to fertilise another female plant.
This strain can be grown indoors and outdoors, indoors it has a flowering time of around 8 weeks and outdoors it should be harvested in early October. Indoors it has a yield of 425 - 475 g/m2 and grows to a height of 60 - 100 cm.
Outdoors it has a yield of 450 - 500 g/plant and grows to a height of 100 - 140 cm.
Genetics:
Jack The Ripper x Queen Madre