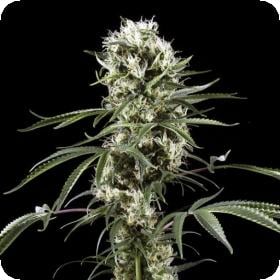 Super Lemon Haze Feminised Seeds
Super Lemon Haze won the High Times Cannabis Cup two years in a row, in 2008 and 2009, as well as numerous other prizes. 
It is a sativa-dominant hybrid of Lemon Skunk and Super Silver Haze.
In terms of effects, it achieves a fair balance between the intellectual and the physical.
Super Lemon Haze grows to be rather tall, with spreading branches that resemble the shape of a Christmas tree. 
Indoors, SCRoG or LST methods are recommended for optimal results, with yields of 800 gr/m2 attainable throughout a 10-week flowering period.
Outdoors, it will undoubtedly require support so that the branches do not shatter before the buds mature. 
Northern Europe can achieve yields of 1200 gr/plant by mid-October.
With a THC content of 19.33 percent (and CBD of 0.21 percent and CBN of 1.15 percent).
A complex flavour that includes an intense, sharp citrus (lemon, lime, grapefruit) taste as well as undertones of incense, black pepper, and an earthy, musky aftertaste, this strain is highly sought after. 
Its effect is well-balanced, beginning with a very quick, muscular indica onslaught and smoothly evolving to a more cerebral, creative, and long-lasting high.
Super Lemon Haze is advised for therapeutic usage in the treatment of anorexia and pain alleviation.
Genetics:
Lemon Skunk x Super Silver Haze