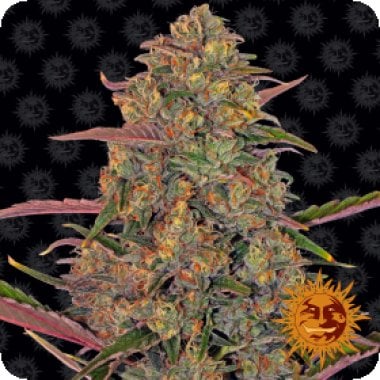 Pineapple Chunk Feminised Seeds
Barney's Farm Pineapple Chunk is an all-indica hybrid of several popular strains: Pineapple crossed with Cheese x Skunk #1. the purpose was to merge the flavours and aromas of these two classic strains into a single, explosive cannabis experience.
The result is this extremely vigorous and stable plant that has, since its introduction, gained notoriety around the world as one of the best that Barney's Farm has to offer.
Its excellent genetics make Pineapple Chunk particularly resistant to all diseases common to cannabis plants, including moulds and fungi. The flowering cycle is short but dramatic at only 55 days on average.
This plant glows so rapidly one might think it possible to watch it happen with the naked eye. Of course, it doesn't grow quite that quickly but the return on the effort is still extremely impressive.
Pineapple Chunk brings to the table the best of all of its genetics.
Early on in its flowering cycle, it gives subtle hints of good things to come with tantalizing aromas that perfectly mingle the classic earthy notes of the Cheese x Skunk side with the permeating smell of pineapple that shines through.
The flavour of Pineapple Chunk can be described as earthiness rounded out with a shock of pineapple on the back end.
Pineapple Chunk is particularly suited for indoor growing but grows well outdoors in mild climates as well. Plants grow to approximately 90 cm and produce approximately 600 g per square metre.
Outdoor growers should plan on an end of September harvest in the Northern Hemisphere.
Because these seeds are feminised, they grow very consistently and offer a very impressive yield. The buds are abundant and offers a whopping concentration of THC and 1.1% CBD, leaving the user couch-locked for a good while.
If a full, thick, all-body high is what is desired, Pineapple Chunk is an excellent choice.
Please remember that the growing of cannabis plants and the cultivation of seeds is illegal in some countries - please check the laws of your country and don't be growing any plants if it is against your country's laws.
Genetics:
Pineapple X Skunk #1 X Cheese