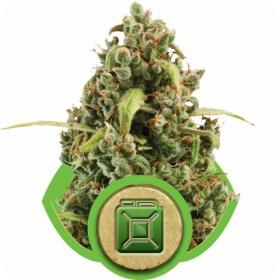 Diesel Automatic Feminised Seeds
Royal Queen Seeds Diesel Automatic Feminised Seeds is a hybrid of the New York City Diesel and the Lowryder #2 resulting in a 40% Sativa, 30% Indica, and 30% Ruderalis strain meaning that it combines the classic qualities of New York Diesel with the quick flowering properties of Ruderalis.
It is a versatile plant that can grow pretty much anywhere including tents or cupboards and can grow up to a height of between 50 and 70 cm. Outdoors it can grow even taller reaching over 1 metre.
If a grower is choosing to discreetly grow indoors they should be warned that this breed ha a particularly strong smell as can be testified by its name. Indoors it can produce a yield of 325-375 gr m 2 and outdoors will result in 60-110 g per plant dried after a flowering period of 8-9 weeks.
This strain is perfect for the grower who does not have the time or space for a standard Diesel.
As well as its remarkably varied growing conditions Royal Queen Seeds Diesel has the added benefits of being both automatic and feminised.
Automatic simply means that after a certain period of time the plant will flower automatically, and so is very beneficial for the more novice growers. Feminised means that roughly 100% of the seeds will be female which is advantageous because it is the females which need to be cultivated.
Regular seeds usually result in a 50/50 split of males and females and so a grower will have to spend twice the amount of money and use twice as much space in order to ensure enough females are produced.
The males do come in useful for their pollen, if a grower wishes to breed their own crop, however given the right conditions, the females can be manipulated into producing this pollen.
This means that the next batch of seeds will be of greater genetic purity than if males had been used as well.
Please remember that the growing of cannabis plants and the cultivation of seeds is illegal in some countries - please check the laws of your country and don't be growing any plants if it is against your country's laws.
Genetics:
New York City Diesel x Lowryder #2