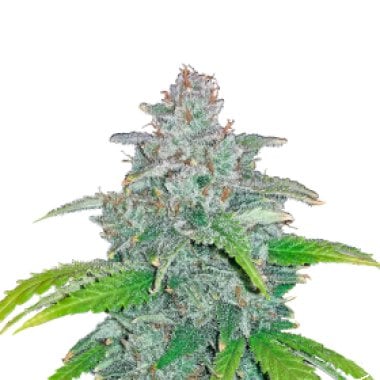 Blue Dream (AKA Blue Dream'matic) Autoflowering Feminised Seeds
Blue Dream'matic is a 'true blue' budding machine which delivers a euphoric, relaxing and uplifting high. This 2017 auto-flower creation stays true to the Blue Dream classic with sweet earthy notes at early growth, later joined by a sharp berry scent.
We've only improved on the original genetics, so prepare yourself for a beast of a plant with great resistance. Big, long, dense buds are the signature of this strain, which spreads branches wide and far, more of a giant bush than a tree, and can net up to 300 gr. per plant in just 9 weeks.
The final flavor is the genuine article: a hint of pine/cedar and tart sweetness that leaves a slight dry mouth as the soothing, happy vibes take grip. The final harvest gives off a fantastically pungent, citric aroma that really gets you sativating!
It's an sativa - indica blend (up to 75% sativa) that gives an intense head high before mellowing out into a body high -- perfect for afternoon tokes. You won't be crashed on the couch…
Blue Dream'matic is simple to grow, with strong resistance. A thirsty grower and potentially an early finisher. Trim the base gradually in the early stages for great consistency in plenty of bud sites, and a bountiful harvest could be ready as early as 9 weeks. However, some grows can reach the 11th week. Go easy on the feed – about a quarter of what any product instructs. Control the height by trimming the main stem, and selectively defoliate to improve all-round airflow.