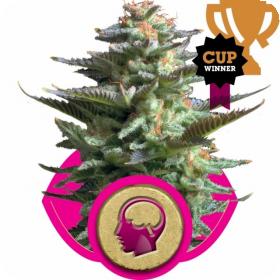 Amnesia Haze Feminised Seeds
Royal Queen Seeds Amnesia Haze is the self-proclaimed 'best hazes ever' and is a Sativa dominant strain very high in THC.
Although it prefers to be grown outdoors in the sunny climates of North Africa, Australia, or California its flowering time of 12 weeks means that it can be grown in greenhouses in both hydro and soil.
It will grow indoors to a height of 80-140 cm and outdoors to over 2 metres with a yield of 600-650 gr m2 or 650-700 g per plant respectively. If a grower chooses to grow outdoors, however, care needs to be taken in order to ensure the plant remains unaffected by weather, bugs, and irrigation.
In spite of this Amnesia Haze has the attribute of it being feminised which makes it easier to grow than other Haze strains.
With regular seeds there is a roughly equal 50/50 split of males and females, although sometimes the number of females will be greater, but with feminised there is an almost 100% chance that all of the seeds will be female.
This is preferable because the males really serve no purpose other than to take up space and waste valuable time which could be spent on the productive females.
As well as this a grower would need to spend twice the amount of money to buy twice the number of seeds in order to ensure there is the correct amount of females.
If a grower should wish to breed their own crop however the males will come in handy then as they produce the pollen which enables breeding to occur.
Even though this is the case it is possible to induce this pollen production in the females, and although this is an extremely difficult process the resulting crop will have a superior level of genetic purity.
Please remember that the growing of cannabis plants and the cultivation of seeds is illegal in some countries - please check the laws of your country and don't be growing any plants if it is against your country's laws.
Genetics:
Haze Hybrid x Original Haze male