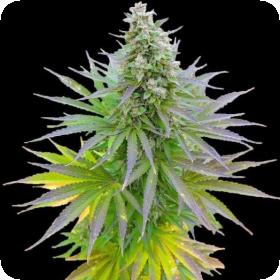 Blueberry Gum Feminised Seeds
Blueberry Gum is a mostly indica strain created by crossing two extraordinary parents: Hash Plant and Blueberry. This is a great strain for growers who live at higher altitudes or in places where the mercury tends to fall at night.
Lower temperatures are not a problem for these plants. In fact, the cooler nights tend to enhance their look considerably.
Even better, the plants are excellent producers with outdoor plants typically yielding 1,100 g or better per plant and indoor plants yielding upwards of 500 g per square metre.
As if one needed another reason to give these seeds a go, they also flower super fast. Only about 55 days and these buds are good to go. They are also feminised, making them very easy to grow even for those who aren't adept yet with cannabis cultivation.
They will produce well even if a few mistakes are made along the way.
The effect is said to be very calming and relaxing. The indica genes take care of that nicely while the sativa hints help to keep the head clear. The aroma is a wonderful mix of both parents with fruity sweet berry overtones mingled with classic bubblegum.
Couple that with the deep purple hue and it is almost a shame to cut them down. Almost.
The buds are large and tight and produce a thick coat of resinous deliciousness. After adequate drying and curing they will last a good long time and produce an effect that hangs on for hours.
Time for a nap? Just a few hits of this and even the worst kind of insomniac is likely to be dreaming the dreams of angels.
Don't miss the chance to experience this wonderful mix of popular genetics stabilised and feminised in plants that grow well both indoors and out.