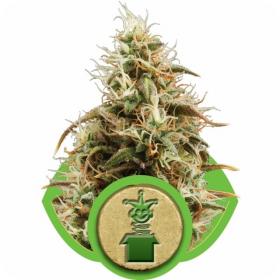 Royal Jack Automatic Feminised Seeds
The Royal Queen Seeds Royal Jack seed is clearly a great strain as it was named after a great man. Jack Herer wrote the book The Emperor Wears No Clothes and, until his death in 2010, was a tireless cannabis campaign activist.
Its genetics are a combination of the original Jack Herer strain and Ruderalis which means it can be grown pretty much anywhere and has a flowering time of 9-10 weeks, rather short considering Jack Herer has a Haze background.
It is quite evenly balanced at a ratio of 40% Sativa, 30% Indica, and 30% Ruderalis, with a high CBD content and high THC. Growing well both indoors and outdoors, it will not grow to over 1 m in height but will produce a yield of 350-400gr m2 indoors, and 70-120 grams per plant dried indoors.
As it is rather short in stature, thanks to its Indica traits, it is perfect for the more discreet growers.
As well as this the fact that Royal Queen Seeds is automatic and feminised means that it is great for the more novice of growers. Automatic means that it will flourish in most environments and will flower automatically after a certain time.
Feminised simply means that there is an almost 100% chance that all the seeds will be female. This is useful because it is really only the females which are used for cultivation, and so it saves amateur and professional growers alike from having to deal with those pesky males.
In a regular seed pack the ratio of males to females is, more often than not, 50/50, so a grower will have to use up twice the amount of time, space, and money, on the male plants.
Even if a grower wished to breed their own crop it is possible, although probably not viable for novices, to manipulate the females into producing the pollen necessary for reproduction.
This will even result in a crop that has a superior genetic make-up than one that has both a male and a female as parents.
Please remember that the growing of cannabis plants and the cultivation of seeds is illegal in some countries - please check the laws of your country and don't be growing any plants if it is against your country's laws.