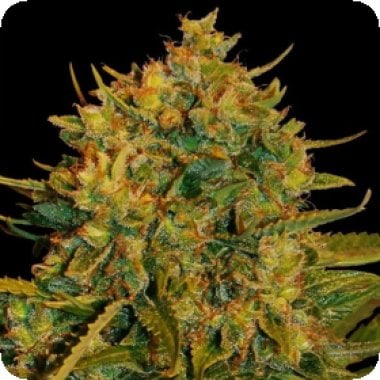 Northern Light x Big Bud Feminised Seeds
Northern Lights is one of the best loved strains around and has won a number of awards. It won the 1988, the 1989 and the 1990 Cannabis Cup. World of Seeds has crossed this classic with Big Bud, one of the most popular commercial strains of the 80s and 90s.
This popularity was due to its huge yields and how ideal it is for indoor growing.
This combined strain has amazing resin production as well as impressive medicinal properties. This strain is ideal for those suffering from anxiety on account of the well-balanced percentage of cannabinoids.
It is high in CBD and in THC which makes its effects well-balanced and pleasant.
This means that the strain is not only great for anxiety, but also makes a great painkiller and perfect for those suffering from stress related illnesses and depression.
Feminised seeds have become a must-have in most seed companies. They make the growing process far easier for those who plan on growing their own crops. For these growers the male plants are an irritating and unwanted aspect of the growing process.
This is because they take up time, space, money and effort which could be better spent on the female plants.
Males can harm the females during the growing process and so much be removed at the beginning. Since, in a regular seed batch, around half of the seeds are male and half are female half of the seeds are wasted.
This means that half of the money spent on the seeds is also wasted. Feminised seeds are of a higher level of quality and uniformity than regular plants.
80% of seeds which have been feminised have shown improvement in both of these areas. Feminised seeds can also be used in breeding, however it should only be attempted by experienced breeders.
This process is achieved by convincing the feminised plants to produce a pollen similar to that of the male plants. This pollen is then used to fertilise another female plant and create feminised seeds.
This strain can grow indoors or outdoors making it perfect for all sorts of growers and breeders. Indoors it has a flowering time of 55 - 60 days and should be harvested at the end of September if grown outdoors.
It has an extremely impressive yield and can produce as much as 400 - 500 g/m2 indoors and an astonishing 900 - 1000 g/plant outdoors.