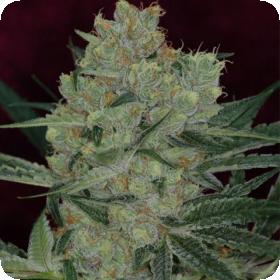 Cheese Quake Regular Seeds
Cheese quake is an outstanding hybrid formed by crossing the classic Cheese strain and Querkle, both of which are already famous world-wide, making the results a strain in a league of its own.
Cheese Quake will usually present as one of two main phenotypes, both showing an impressive amount of vigor and productivity and both producing large green buds with a high THC content and CBD levels of 1.5%.
The more Querkle dominant variation is said to retain it's well known grapey musk, while the variation showing more of the Cheese phenotypes still maintains that classic cheese odour.
The finished plant is said to have strong anti-anxiety and pain killing properties, making it popular among medical growers.
Cheese Quake is a strain that takes its form as a regular seed, a variety still used over the world by many of the more traditional growers out there.
It is true that many growers looking to breed only the same plant exclusively, often defer to the feminised variety, as only the female plants are required for this. For those wishing to breed their own varieties, however, the male plants are quite necessary.
It is this that would allow a grower control over the fertilization process, where they would then be able to select their preferred features and the ones less important to them so that only the finest male and female plants are allowed to reproduce, thus giving complete control over the future of the crop whilst also removing any other genetic weaknesses.
The seeds will then usually inherit only the best qualities from each parent plant. It is this ability to customise to growers own desires that maintains the popularity of the regular seed.
A grower could expect a flowering period of approximately 8-9 weeks for this strain, with a high yield in both indoor and outdoor growing conditions.
Please remember that the growing of cannabis plants and the cultivation of seeds is illegal in some countries - please check the laws of your country and don't be growing any plants if it is against your country's laws.