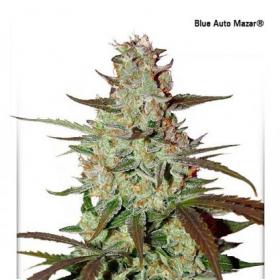 Blue Mazar Auto Feminised Seeds
Blue AutoMazar® comes from an AutoBlueberry® and AutoMazar® cross two auto strains already renowned as premium auto-flowering strains.
Blue AutoMazar® consists of 75% indica and 25% sativa.
This new Dutch Passion Auto plant combines Mazar's yield and power with the delicious taste expert Blueberry, creating a very special plant.
It can be grown indoors and outdoors and in 75 days from germination its complete growth cycle is over.
Although most plants cultivated will have features of the two strains, a few tend to the Blueberry or the Mazar.
These plants range from 80 to 100 cm in height and very bushy, so growers should leave plenty of space to spread their wings.
They grow in the form of a Christmas tree with many well-developed secondary buds on their side branches.
The average home grower produces easily 75 - 100 gr.
Strong, powerful and delicious buds of every plant of top quality, but those with more experience or who decide to go with love and attention can easily exceed 200 gr per plant.
The scent is sweet and fruity with earth, pepper and spice notes.
It has a very nice, relaxing and comfortable effect.
It's a strong stone, but one that gives a happy, if sedative, high stone.
Genetics:
AutoBlueberry x AutoMazar