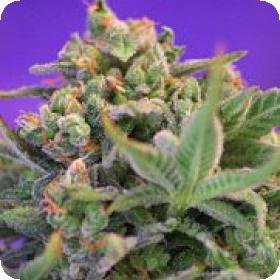 Sweet Cheese Feminised Seeds
Sweet Cheese Feminised by Sweet Seeds is a hybrid of Cheese and Black Jack, two very popular and well known strains. Black Jack is a plant with very high THC production, because of this it is very popular as a medical strain.
High THC levels means that the strain can work as a painkiller, or a way of lessening the symptoms of anxiety and depression, without causing the user to lose energy or focus. Cheese on the other hand is a light, fruity, strain that also has an extremely high THC content.
It was originally bred in the UK and is widely considered to be one of the best strains available on the market. Sweet Cheese grows long central buds which are also surrounded by a good number of side buds.
It is high in productivity and has an amazing flavour which is reminiscent of a mature cheese with a slightly spicy edge. Its effect is one of long-lasting periods of relaxation and euphoria.
These Sweet Cheese seeds come in the form of feminised seeds. Feminised seeds first came onto the market in 1990 when they were discovered by Dutch Passion.
The idea that entirely female crops could be grown was mind-blowing to the cannabis community at the time, and they immediately gained a huge amount of popularity.
There are more positives to feminised seeds than just their ease of use however. Feminised seeds are found to be higher in quality and uniformity, 80% of strains which were transformed into feminised strains massively increased in potency.
For breeders who would prefer to use female seeds there is a method of breeding your own feminised seeds. It is very difficult and should only be attempted by expert breeders, but the female can be stressed into releasing female pollen.
This female pollen can be used to fertilise another female and so feminised seeds are born. For regular growers they are a great way to save money, since they need no longer buy twice as many seeds for the same number of females.
They also save the energy and time usually spent removing the male plants from the crops.
Sweet Cheese is 30% Indica and 70% Sativa, its indoor yield is 400 - 600 g/m2 and its outdoor yield is 350 - 550 g/plant. Its flowering time is just 9 weeks and it should be harvested, if grown outdoors, in the middle of October.
Please remember that the growing of cannabis plants and the cultivation of seeds is illegal in some countries - please check the laws of your country and don't be growing any plants if it is against your country's laws.