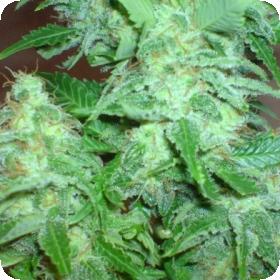 Freeze Cheese '89 Feminised Seeds
Big Buddha lends its innovative edge in cannabis development to this specialty strain. They crossed their own Cheese strain with one that was originally developed by Holland's Super Sativa Seed Club: Friesland Indica. The latter has been around for quite a while and won the affection of Big Buddha for its many classic and quality indica attributes.
Acquired via one of Amsterdam's top coffee shops, Big Buddha's use of Friesland in this hybrid project yields an extremely indica plant in both its look and its stature. It is an extremely hardy plant with dark green leaves that possess an elegance that sets it apart among similar indicas. The buds also mirror those found in many classic indicas with an almost hypnotic crystalline sparkle of dense resin. The inclusion of the iconic Cheese genetics only adds to its appeal.
Freeze Cheese is more than a play on the name of the parent strains. This plant flourishes indoors but is also one of the toughest strains out there for growing in cold either. Plant it a little late and it will survive in a frost with very little effect on the quality or quantity of the product. It is also impressively resistant to moulds, fungi and various diseases. Grown indoors, it practically grows itself and responds to any method from soil to hydroponics to ScrOG and SOG. Being feminised it is, by definition, another "Throw It and Grow It" variety which Big Buddha is famous for providing.
Freeze Cheese is a dominant Indica with an 80:20 ratio of indica to sativa genetics. This makes it pack quite a punch and provide a long-lasting couch-locked stone effect. Flowering time is adequate at 8 weeks, optimal at 10. While it does stand up to frost, it is recommended to plan a harvest for early October to avoid unnecessary exposure to colder Northern Hemisphere weather.
Please remember that the growing of cannabis plants and the cultivation of seeds is illegal in some countries - please check the laws of your country and don't be growing any plants if it is against your country's laws.
Genetics:
Friesland Indica 1989 X Big Buddha Cheese 'reversed'