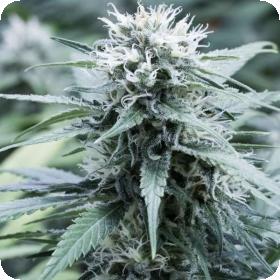 Sweet Amnesia Feminised Seeds
For the true sativa lover, the Vault proudly offers Sweet Amnesia feminised cannabis seeds. Developed by G13 Labs, this wonderfully vigorous and impressively-parented strain is bound to become a new and instant favourite for die-hard sativa smokers.
These plants flower so quickly it's hard to believe they're sativa. Give them about 65 days and the magic is ready to happen. Better still, these plants are very easy to grow even by feminised plant standards. Even a complete novice will be able to yield a sizeable and respectable harvest of top-quality bud.
The plants have just enough indica influence to keep the size under control. This makes Sweet Amnesia an ideal candidate for indoor growing. They tend to prefer soil setups but hydro growers also report comparable results. The flowers practically drip with resin upon full maturity and the buds grow long and tight and are very hard and dense to the touch. How good are those yields, really? How about 600 g per square metre? That's an astonishing 1200 g or better per plant!
Growers recommend keeping fertiliser to a minimum to maintain a good flavour and a little is all these plants need. They wear the moniker of "weed" quite well because that's precisely how they grow: strong and hardy with very little outside help. This is the quintessential "throw and grow" variety and they don't even need a lot of heavy maintenance - just a little attention and a standard light cycle for both vegetative and flowering phases.
The smell of the buds is very lemony with hints of haze. Light it up and a delightful hint of incense is also added to the mix. The effect is powerful and fills the head. It starts out stimulating like a typical sativa then settles into a mellow, relaxing vibe, just to make one certain that those indica genes are in there.