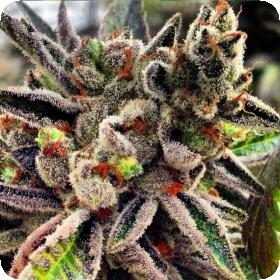 Scott's OG Feminised Seeds
Scott's OG is a combination of Triangle Kush and Rare Dankness #1. This strain is known for its excellent yields and its easily manicured leaves. The buds are dense and completely covered in sticky, frosty resin.
They have an enchanting scent of lemon and Kush with a deliciously refreshing flavour to match. This strain is definitely not recommended for casual smokers as it is extremely potent and may be too intense for some.
This strain is easy to grow, easy to care for and produces tasty, top quality buds. 
Scott's OG is a feminised strain, which means it will only grow into female plants. It also means that it is photoperiod and will require a light cycle in order to flower. Feminised seeds are primarily popular amongst growers, who have no use for the male plants.
Since males take up around half of a regular crop they can be a huge waste of time and money. Feminised seeds also tend to be higher in quality and uniformity than regular seeds.
For this reason some breeders also prefer to use them, despite the increased difficulty of feminised breeding. 
This strain can be grown indoors or outdoors and has a flowering time of 60 – 65 days. 
Remember that the cultivation of cannabis seeds is illegal in some countries, please check the laws of your country before attempting to cultivate cannabis seeds.
Genetics:
Triangle Kush X Rare Dankness #1