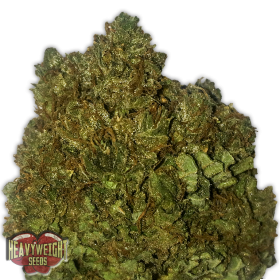 Money Bush Feminised Seeds
This strain is perfect for indica lovers everywhere. It is a combination of Critical Mass and Afghani which makes it stocky, fast flowering and extremely high yielding.
Its THC levels sit at 21% while its CBD levels are around 3%. This is not a plant to be taken lightly and will work well for medicinal and therapeutic users.
The effect is powerfully physical and long-lasting, which means that it works very well as a nighttime painkiller or as relief for those with insomnia.
The flavour is powerfully earthy and Kushy which makes it perfect for Kush lovers, the smell is also delightfully earthy but a little heady and floral.
This strain is recommended for commercial growers due to the amazing yields of 600 - 800 g/m2 indoors and up to 900 g/plant outdoors.
Money Bush is a feminised strain, meaning that all the plants in the crop will be female. These seeds were created by Dutch Passion in order to make life easier for growers.
Usually growers have no need for the males, which take up around half of a regular crop. As a result they need to remove the males before they can cause any lasting damage to the females.
This not only wastes around half the seeds but half of the money spent on them. Breeders sometimes prefer to use feminised seeds as well for a greater yielding crop with a higher level of quality and uniformity.
However, breeding with female plants is tricky and should only be attempted by experienced breeders.
This strain needs just 49 - 56 days to flower and will grow well indoors, outdoors or in a greenhouse.
Remember that the cultivation of cannabis seeds is illegal in some countries, please check the laws of your country before attempting to cultuivate cannabis seeds.