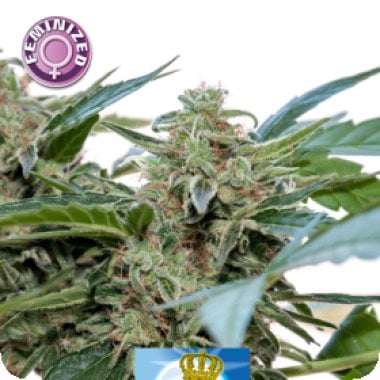 Royal Queen Diamond Feminised Seeds
The Royal Queen Diamond version of cannabis seeds is gaining popularity due to its explosive flowering process. Within just a few days, full buds start to grow on long flexible branches. This variety has a soft sativa sweet and fruity aroma that is very intense. Unlike other sativa species, it is not affected by fungi and is ideal for humid environments. The weed produced by Royal Queen Diamond gives a pleasant and relaxed high, making it a must-have in Kera's classic range.
This fast-growing and flowering plant produces top quality large amounts of marijuana. It can be grown both indoors and outdoors, and as it matures, the dark green leaves often turn into a beautiful purple. The imposing buds are characterized by thick white crystals and resin. The THC content of Royal Queen Diamond ranges from 15% to 20%. When it reaches maturity, the plant emits a charming sweet, fruity, and intense fragrance.
Kera considers this breed to be "very close to perfection" as it has a strong and great taste supported by a delicious scent. It is easy to harvest, flowers early, and produces remarkable amounts of resin. The strong and slightly fruity taste lingers on your tongue, and the smoke is pleasant without causing discomfort. The weed from Royal Queen Diamond can be stored for a long time without losing its strength and flavor.
Genetics:
Green Poison x Ruderalis Mix