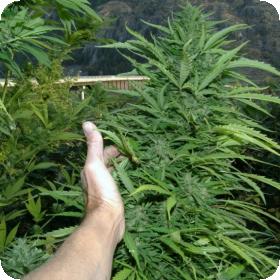 Amazing Cherry SuperAuto Feminised Seeds
This strain is a combination of Strawberry Kush and Neville's Haze mixed with the auto-flowering genetics of Stitch 0.2. This strain gives incredible yields and is great for those who need something discreet. It is a short strain, but it can give off some powerful odours during flowering.
This means it will alert people to its existence if it isn't ventilated properly. It is great to plant straight into the ground or stright into pots to produce the best possible yield. This strain is a great choice for Sea of Green set ups. Its effect is extremely pleasant and balanced with a hit of positivity and energy with a nice relaxation. It has a flavour and scent of sweet cherry with an after-taste that lasts for ages.
Amazing Cherry is both auto-flowering and feminised. Auto-flowering plants are ideal for those who don't have a tone of space and time. The fact that they flower automatically means that they have a shorter flowering time and a shorter stature. However their decreased height does not automatically mean a decreased yield, often quite the opposite.
Auto-flowering plants are also great for sneaky growing. Feminised plants are usually used by growers, who have no need for the male plants. As a result feminised seeds can save a huge amount of time, money and effort that would be wasted on removing the males from the crop. They are also usually higher in quality and uniformity than regular seeds.
This strain will take 70 - 80 days to flower and can be grown indoors, outdoors or in a greenhouse.
Remember that the cultivation of cannabis seeds is illegal in some countries, please check the laws of your country before attempting to cultivate cannabis seeds.