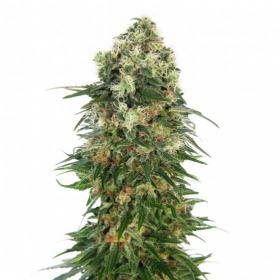 Shiva Skunk AUTO Feminised Seeds
Shive Skunk is an indica dominant strain and is best known for her insane resin production. This strain is a combination of Northern Lights #5, Skunk #1 and a true-breeding Ruderalis strain.
This strain is definitely one of the most powerful auto-flowering plants on the market. The characteristic Shiva scent and flavour comes through strongly, a mix of sweet citrus and skunk musk.
The buds are large, thick and literally dripping with resin crystals. This strain is sometimes described as 'oily' or 'creamy'. A truly magnificent strain that should be in every single garden.
Shive Skunk is both auto-flowering and feminised, making it ideal for most growers. Auto-flowering strains will not require a light cycle in order to flower.
This makes the flowering time a lot shorter, as well as the height of the plant. Despite their size, these plants will still produce amazing yields of top quality buds.
This makes them ideal for indoor, stealth and commercial growing. Feminised seeds will only grow into female plants, saving growers a lot of time and money that would usually be wasted on the male plants.
The males have to be removed before they can harm the females. Feminised seeds also tend to produce higher quality plants than regular seeds.
This strain has a flowering time of 45 – 55 days and can be grown indoors or outdoors.