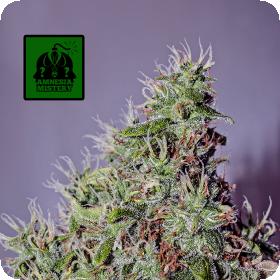 Amnesia Mistery Feminised Seeds
Amnesia Mistery makes good use of genetics from a strain aptly named "Misterious" which brings to the table large, bushy plant sizes with an abundance of flowers. It is a real example of what a good sativa-dominant hybrid can be. Misterious is crossed with a genetically-superior Amnesia clone to give it a more psychedelic and trippy effect.
These are feminised seeds making them, practically by definition, easy to grow even for novice growers. That said, a little experience can go a long way with this particular strain. Its has a strong central structure that allows the plants to develop a higher number of branches than average, bringing with them a huge central cola with numerous smaller flower sites throughout the plant.
These plants will take up considerable space as they grow - an important consideration for indoor growers. They will take up plenty of vertical and horizontal space and do not like being tied. Be certain to provide enough space for air and light to circulate. Potting and other soil setups are recommended. Only experienced indoor growers with an appropriate environment to work with should attempt to grow in hydro setups.
The plants are very resistant to pests and diseases so they do well outdoors even in very humid environments. As the plants reach full maturity, they take on the scent of fresh pine, making them somewhat easy to conceal in areas where discretion is a consideration. As the resin develops one can also pick up the faint smell of eucalyptus or menthol.
Once the buds are fully cured, the aroma takes on another dimension that is spicy with notes of coffee and black liquorice. The effect of Amnesia Mistery is strong and brainy and will open up the user's creative centres nicely.