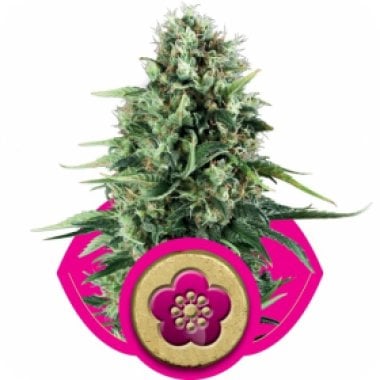 Power Flower Feminised Seeds
Perfect for beginners Royal Queen Seeds feminised Power Flower is as trustworthy as it is famous since after the initial growing period, the white tricks and emerland leaves require very little care.
This variety is a Sativa, Indica mixture with a relatively high TCH content of 15%.
Power Flower is suitable for indoor, hydro, or soil, or outdoor growing, where it prefers sunny climates, and although it can be grown in more Northern countries such as the Netherlands or the UK, it may not reach its full potential.
Indoors it may grow up to 1.5 m if it is allowed to flourish and outdoors this will extend to over 2 m, yielding 65-85gr per plant indoors and over 100gr per plant outdoors if it is given a lot of care and nourishment.
With a rapid flowering time of 8 weeks, this laid back plant is great for novice and pro alike.
The Royal Queen Seeds Power Flower variety has the added benefit of being feminised, which means it has one special advantage over the regular kind.
With regular seeds, odds are that around half of the plants will be male, but with feminised seeds this percentage drops to pretty much zero.
The reason that this is so desirable is that the males generally serve no purpose except to take up the space which would be better served on the females and cause growers to spend twice the amount of money on seeds to make sure there are enough females in a crop.
Males only come into use if a grower decides to breed their own batch of seeds and even then it is possible to manipulate the females into producing the pollen which is necessary for reproduction.
It should be noted however that this is a very tricky process and only the most experienced growers are likely to be successful.
Royal Seeds Power Flower is an attempt at recreating the most popular attributes of one of the most famous strains from Amsterdam. This feminised variety grows over 3 feet tall and often grows to over 4 indoors.
Outdoors, the plants can grow to six feet or greater. It prefers warm growing environments. Outdoors, that means a predominantly sunny region with long hours of full, direct sunlight.
Northern latitudes are not ideal areas for growing Power Flower outdoors, but indoor growers should be able to grow it successfully and productively anywhere.
Power Plant is the original commercial strain upon which Power Flower is based. It grows as large as Power Plant and produces in amounts that are difficult to top.
The average plant is good for 650 g per square metre or better when grown under 600W lights. Grown outdoors, these plants can produce more than 100 g PER PLANT, but an abundance of sunshine will be essential to reach those numbers.
That incredible yield comes after just an 8-week flower period. These plants are relatively easy to grow, but they respond better to the expertise of an experienced grower.
The seeds are feminised which makes them easy to handle by definition, but a little experience will really pay off in the amount of finished product these plants provide.
Growing using Sea of Green and Screen of Green also promotes superior yields.
The flavour of Power Flower is sweet and sour with strong citrus notes. The flavour mingles with the scent of pine which also influences the overall taste.
It stimulates the taste buds as well as the other senses with a smooth, energetic and active high that compliments the pleasure of the smoking experience. Those familiar with the original are sure to agree that this strain is particularly satisfying and never disappoints.
Please remember that the growing of cannabis plants and the cultivation of seeds is illegal in some countries - please check the laws of your country and don't be growing any plants if it is against your country's laws.
Genetics:
South African Sativas x Indica