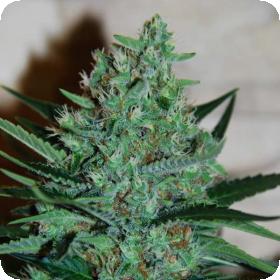 White Lavender Feminised Seeds
White genetics are known the world over for producing super-potent, top-quality strains. Adding to the punch of its already potent indica genetics is the inclusion of Lavender. It provides a very pleasing aromatic quality to the smoke as well as a distinctly sweet flavour that is somewhat of a departure from White Widow.
The mingling of the qualities between these two strains actually produces a very sativa-like effect, despite the dominant indica genetics. The effect is described to be very much like that of a typical sativa: happy, uplifting, and focused, but also particularly relaxing.
The White genetics also provide an additional benefit, particularly the signature heavy resin production that gave the original its name. Those powerful trichomes make the effect extremely potent and the lavender genetics deliver a wonderfully floral, fruity, and sweet quality to both the aroma and flavour.
The effect is very heady but quickly washes over the entire body with a calm, mellow euphoria that is also very uplifting, stimulating the creative centres just like a good-quality sativa. Be prepared for some very deep thoughts and a sense of utter tranquility that helps them develop and flow nicely.
The plants grow on the tall side so potting and soil are the best and most highly-recommended growing methods. Experienced hydro growers will, however, be able to produce excellent results under the best conditions. Light cycles are typical and flowering time is typical of strains with dominant White genetic profiles.
Outdoor growers will find the plants grow larger and subsequently yield a bit more end product than their indoor counterparts. They are also particularly hardy and stand up well to a variety of weather conditions. Harvest by mid-October and do not allow the plants to be exposed to drastic changes in temperature or frost.