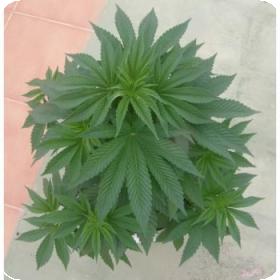 Painkiller Feminised Seeds
Painkiller is an incredible medicinal strain that does what it says on the tin. However, this strain isn't just an amazing painkiller, it also reduces nausea, increases appetite and aids a restful sleep.
This strain is great for those who struggle to get to sleep or who struggle with active dreams. This strain is also great for those suffering from muscle aches, however some phenotypes can be extremely strong so smokers should be careful.
This strain is a cross between Sensi Star, known for its ability to help with menstrual cramps, and White Russian. The plants are medium size with dark leaves and a high resin production. This strain has a great flavour of lemon that is strong and refreshing. 
This strain is feminised and will only grow into female plants. Feminised seeds are ideal for growers who don't need the male plants for breeding. For these growers the male plants are a nuisance and can harm the female plants during the flowering period.
Since around half of a regular crop is male, removing them can be a massive waste of time and money. Feminised seeds also tend to be higher in quality and uniformity than regular seeds. For this reason some breeders also use them, even though feminised breeding is very difficult. 
This strain has a flowering time of 7 – 8 weeks and can be grown indoors or outdoors. 
Remember that the cultivation of cannabis seeds is illegal in some countries, please check the laws of your country before attempting to cultivate cannabis seeds.
Genetics:
Sensi Star (Paradise Seeds) x White Russian (Serious Seeds)