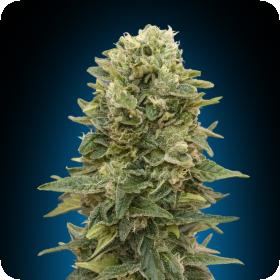 Female Mix Feminised Seeds
They say that variety is the spice of life and for those growers who enjoy a challenge as well as the element of surprise, we offer the 00 Seeds Female Mix.
00 Seeds has taken a variety of seeds they have in surplus and combined them into economically-priced 5, 10, and 20-seed packs. You don't know what you're getting but the breeder promises a sampling of some of their best along with a few experimental strains thrown in for good measure.
They do offer a few vital stats for growers including the average height of their plants. Indoor growers should prepare for plants that grow as tall as 120 cm (4 feet) and outdoor plants that can reach heights of 300 cm (10 feet). Most will be considerably shorter.
As for genetics, that is also a complete toss-up but this breeder is known for its innovation and its use of classic genetics including Kush, Northern Lights, and many others. They offer a nice mix of both indica and sativa-dominant strains, any of which could make an appearance in the grow room.
Will you be treated with something with Cheese genetics or will you be mesmerised by the look and smell of the curious Bubble Gum? In any event, we are certain that any grower will be pleased and that the strains included will be easy to handle, flower quickly, and be free of male plants. All seeds are feminised and many produce buds in above-average quantities.
Don't miss out on the surprise or the challenge of growing whatever quite literally crops up with 00 Seeds Female mix. The higher the quantity purchased, the greater the savings. These packs will cater well to your sense of adventure and every one offers different varieties to sample and enjoy.