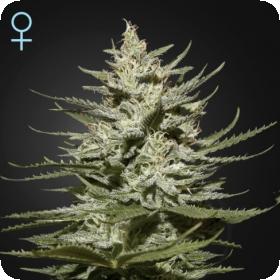 The Church CBD Feminised Seeds
The Church CBD is a combination of The Church, an extremely popular strain by Greenhouse Seed Co, and a CBD rich male. This strain gives a great yield of impressive buds and has a THC:CBD level of 8 - 11%. This strain is indica dominant but still very well balanced with 60% indica and 40% sativa.
The effect of the strain is a little narcotic but very pleasant and relaxing. As a result it is not really recommended for day time use but is ideal for those who are suffering from insomnia or pain at night.
This strain is feminised, which means that it will only grow into female plants. Feminised seeds are usually popular amongst growers due to their cost effectiveness, their increased quality and their uniformity. However they are also sometimes used by more experienced breeders, who are capable of breeding two female plants together.
Growers can not only save money but a lot of time and effort by using feminised seeds. Almost half of a regular crop will be male, which means almost half of the crop has to be dealt with and disposed of during the flowering period.
This strain will need 56 - 63 days to flower and can be grown indoors, outdoors or in a greenhouse.
Remember that the cultivation of cannabis seeds is illegal in some countries, please check the laws of your country before attempting to cultivate cannabis seeds.
Genetics:
The Church female x High-CBD male