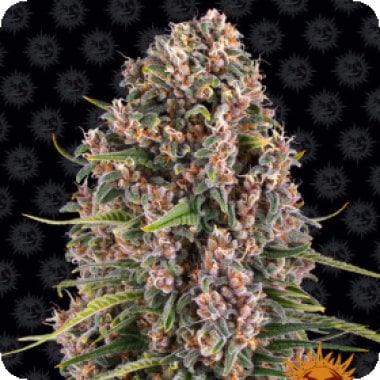 Blueberry Cheese (Blue Cheese) Feminised Seeds
Since the early 1980s, it has been the mission of the dedicated breeders at Barney's Farm to scour the globe gathering high-quality landrace genetics for their unique and inspiring hybrid cannabis creations.
The goal of this constant search is to create some of the world's rarest and best strains of marijuana, and these efforts have had their rewards.
They have won a number of international awards for the overall quality and stability of their strains and they are a recognized global leader in top-quality cannabis seed production.
This undying passion is evident in every seed they produce and the experience of both growing and using these products only serves to underline that passion and showcase their commitment.
To create Barney's Farm Blue Cheese, their developers crossed the ever-popular Skunk #1 with their equally well-known Blueberry strain.
The end result is a productive plant that is easy to grow, produces an impressive yield with buds that have an aroma that is as tantalizing as their taste.
The smell of the Skunk #1 is powerful all by itself but apply a few notes of blueberry and you have something very special: mild to the palate and very plush and soothing to the body.
Barney's Farm Blue Cheese produces plants that are petite yet sturdy with lots of branching Expect it to grow to about 2 feet, perhaps a little bit taller. Its colas are sticky and tight and they mature quickly.
Flowering time for this strain is only about 8 to 9 weeks. It produces an abundant yield of THC-soaked buds with a very strong concentration. CBD count is about 0.8% on average.
Using feminised seeds is recommended for novice growers or those who prefer a more consistent and predictable crop. The absence of male chromosomes guarantees an abundance of flowers with little maintenance.
Please remember that the growing of cannabis plants and the cultivation of seeds is illegal in some countries - please check the laws of your country and don't be growing any plants if it is against your country's laws.
 
Genetics:
Original Cheese x Blueberry