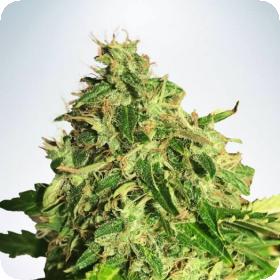 Cannabis Light CBD Auto Feminised Seeds
Cannabis Light Auto is a high-CBD strain intended for therapeutic use as well as for individuals looking for a relaxing high without the psychoactive characteristics of marijuana.
These high-CBD strains are used therapeutically for sleeplessness, as an anti-inflammatory, to relieve anxiety and muscle spasms, as an anti-psychotic, and as an anti-oxidant.
This is a 75% Sativa plant with 20% Ruderalis genetics and 5% Indica genetics, suitable for both indoor and outdoor production. 
From seed to harvest, plants will take 9 weeks to complete their life cycle. Indoor yields range from 60 to 120 grammes per plant, with outdoor yields reaching up to 120 grammes per plant. 
With sandal wood overtones, the perfume is extremely strong.
This strain has a CBD level of 14 - 15% and less than 1% THC, resulting in a CBD:THC ratio of roughly 15:1. People can now unwind without jeopardising their cognitive or physical capacities to do tasks that must be completed.