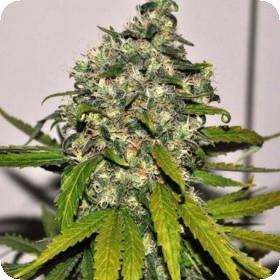 AK Automatic Feminised Seeds
The Blimburn AK Automatic Feminised seed is a pretty amazing breakthrough in the Blimburn brand.
They are fast, small, and easily contained and, unlike many other seeds that have already been bred to be rather tiny, can be kept even smaller in a controlled environment without the yield being negatively affected.
The seed was actually created by an outside breeder but it certainly lived up to Blimburn's expectations and, after a significant amount of testing, has been allowed onto their market.
The seeds are feminised which means they grow only female plants as many find the male plant to be simply an annoyance. They have a high level of potency, uniformity, and yield despite their size and are really a step in the right direction.
Many prefer feminised seeds because they save time, space, and money. No need to purchase twice as many seeds as the number of desired females.
They are also auto flowering; this means that they mature much faster than other seed types because they do not experience the vegetative growing stage.
They don't rely on complex lighting regimes in order to flower but simply do it as they age. These seeds have an incredibly rapid life cycle reaching maturity in as little as 65-75 days.
In this short amount of time these seeds are capable of producing a 120 gram yield, a lot for such a short-lived plant. The short lives of auto flowering seeds also mean that they can grow in most climates; they don't rely on light, heat, and so on.
They can grow indoors, outdoors, in soil, or hydroponically.
This seed is quite the breakthrough for Blimburn and are some of the stealthiest seeds on the market currently.
Please remember that the growing of cannabis plants and the cultivation of seeds is illegal in some countries - please check the laws of your country and don't be growing any plants if it is against your country's laws.