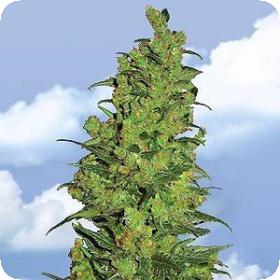 Temple Haze Feminised Seeds
Temple Haze is the exciting love child of Original Haze and Nepalese Hash, a rather impressive genetic background. Original Haze has been used in the creation of dozens of much loved strains and was first created in the 1970s.
It is best known for its high THC content and its exceedingly psychedelic effects. The Nepalese side of the family gives the plant a really vigorous nature as well as intensifying the yield.
The resulting plant is a high yielding, resinous, sweet scented delight which is relatively easy to grow. The effect of the strain is similar to that of its Haze parent. It gives a dreamy, euphoric, and comfortable effect that can last for hours on end.
This is just another super special hybrid from the breeders at Flying Dutchmen.
These seeds come in feminised form, this simply means that they will only grow into female plants. This user-friendly genetic alteration is primarily aimed at growers who have no use for the male plants.
Their only purpose is to produce the pollen necessary for breeding. Even then they are not the only ones that can provide this service. The method by which feminised seeds are created actually does not involve a male plant at all.
It is the female which produces the pollen, this is called feminised pollen. This pollen is then used to fertilise another female and create seeds. As these seeds have two mothers they only contain the genetic material necessary to create a female plant.
This process is highly tricky and should not be attempted by novice breeders. Otherwise, they are perfect for all types of grower as they save on all of the major resources.
Time, space, and money, three things which many people do not have in abundance. They save time on the removal of the male plants from the crops. They save space because all available space will be used to its full potential, on female plants.
Financially they save a great deal of money since the grower need no longer buy twice as many regular seeds as their desired number of female plants. They also have the perk of being of a generally higher quality than regular seeds.
The flowering period of this plant is 65 - 85 days, it is 70% Sativa, has a large yield, and should be grown in a Mediterranean or sunny environment.
Please remember that the growing of cannabis plants and the cultivation of seeds is illegal in some countries - please check the laws of your country and don't be growing any plants if it is against your country's laws.