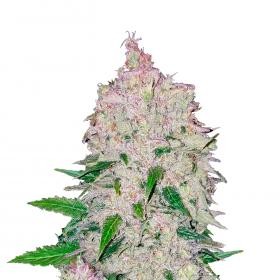 Stardawg Autoflowering Feminised Seeds
Stardawg Autoflowering sparkles and dazzles with glistening resin crystals. It is a cross made from two hybrid cannabis strains viz. Chemdawg #4 and Tres Dawg.
Stardawg is an indica/sativa/ruderalis hybrid and one which grows well indoors as well as outdoors needing enough room for its lateral branching. It has a striking aroma of pine and lemons in the grow room and that in itself is enough to raise the spirits. In 8 - 9 weeks from germination growers will harvest between 400 - 600 gr/m or 50 - 300 gr/plant in 8 - 9 weeks from germination. Buds are quite light green with orange pistils.
THC production is very high with CBD levels of 1%. The effect is fast and powerful. No creeper, Stardawg will reveal its full-on mind-body effect in 5 minutes maximum. Mentally stimulating but physically relaxing, it has shown to be a good strain for nausea as well as to stimulate appetite. Its use is also indicated for the following: Glaucoma, Nausea, Epilepsy, Multiple Sclerosis, Back pain, PMS, Arthritis, Herpes, Rheumatism, Sickle Cell, Expectorant, Stress, Migraines, AIDS, Tumours, Asthma
Stardawg Autoflowering Feminised Seeds by the cannabis seeds breeder FastBuds Seeds, is a Autoflowering Feminised marijuana strain. This Indica / Sativa strain produces a Medium, High Indoors: 400-600 g/m2 & Outdoors: 50-300 g/plant yield.
This Feminised seed grows well in Indoors, Outdoors conditions. Additionally it can be expected to grow into a Medium plant reaching 70-120 cm. This strain has Chemdawg 4 x Tres Dawg Genetics. It has a Very High THC Content. The CBD content of the strain is Low (0-1%). This strain can be used to treat a variety of medical conditions including, Anxiety, Arthritis, Asthma, Epilepsy, Glaucoma, Insomnia, Migraines, Multiple Sclerosis, Nausea, Pain, PMS, Stress.