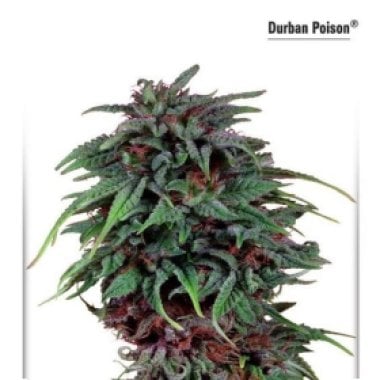 Durban Poison Feminised Seeds
This is a rather special strain which was imported from South Africa and was cultivated in Holland, already rather impressive. The strain has never been hybridised and is a 100% pure inbred plant, also 100% Sativa.
This strain is very popular for is light and energising up as well as its growing versatility. This is another strain by Dutch Passion which is extremely easy to grow although it can be confusing because as it grows it resembles and Indica far more than a Sativa.
At a certain stage however, about 8-9 weeks in, it grows noticeable compact buds which are full of THC.
As if it wasn't already extremely easy to grow, the strain is also feminised. This is a simple genetic alteration chosen by the breeders in an attempt to ensure that the seeds will grow into female plants.
Since it is the female plants that produce many people feel that they have no need for the male plants, especially if they do not intend on breeding their own future crops.
Even if they did it is not completely necessary to use male plants, it has been discovered that the females can actually produce the same pollen if they are treated the right way although this is a very difficult process and should not be attempted by any but expert breeders.
The main reasons that feminising seeds has become so popular are that they save time, they save money; they save space, and if the females are used for breeding the future crops will have a higher level of quality and uniformity.
Many growers these days do not have the resources to purchase twice as many seeds as their desired number of females and do not have the space to accommodate unnecessary males.
If this strain is planted in April it will completely ready by the first week of September. It can be grown indoors, outdoors, or in greenhouses in order to deter mites and other insects, it has a high yield and will grow to a medium height.
Please remember that the growing of cannabis plants and the cultivation of seeds is illegal in some countries - please check the laws of your country and don't be growing any plants if it is against your country's laws.