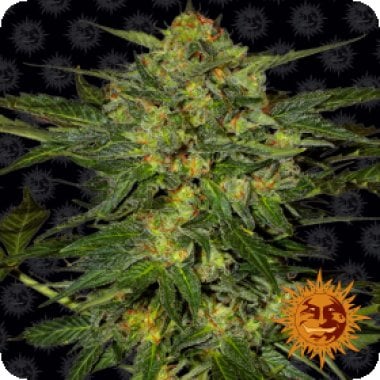 Barney's Farm LSD is a very aptly named, expertly engineered strain of indica cannabis. By crossing Skunk #1 with Mazar, Barney's has achieved a variety of cannabis that has singularly distinct trippy effect and packs a real, solid punch, especially for a dominant indica.
LSD is a particularly hardy strain that is extremely resistant to mould and fungus. It grows in all kinds of environments: outdoors, indoors, greenhouses, this plant just won't quit. Best yet, it is a particularly good starter strain for novice growers looking for a cannabis plant that will require a minimum of maintenance with maximum yield.
The flavour of Barney's LSD is very intense, immediately waking all the senses, and is described by many as earthy with overtones of chestnut. Its aroma is musky and rich and compliments the taste very nicely. As its name implies, the experience it offers is very deeply euphoric bordering on psychedelic.
Barney's Farm recommends their LSD strain predominantly for indoor growing projects, but it fares well outdoors as well. The maximum yield is around 600 g per square metre with a flowering cycle of 8-10 weeks. Outdoor growers in the Northern hemisphere should plan their projects around a mid-September harvest for optimal results. THC content is very high with a CBD concentration of 1.3%.
Barney's Farm employs a team of experienced breeders whose primary purpose since the early 1980s has been gathering landrace genetic cannabis specimins from around the world for their constantly improving and evolving hybridization projects. Their years of cultivation and research have earned them awards and accolades the world over for their high-quality, innovative cannabis seed products. Their search for high-quality genetics continues to this day, along with their commitment to developing exciting new strains for cannabis enthusiasts around the world to enjoy.
Please remember that the growing of cannabis plants and the cultivation of seeds is illegal in some countries - please check the laws of your country and don't be growing any plants if it is against your country's laws.