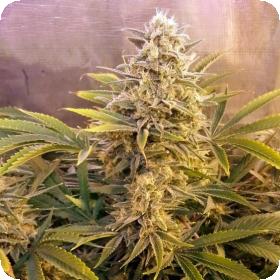 Mosca Seeds has been producing high quality cannabis for the last 6 years and have won multiple Cannabis Cups throughout Europe. They are known for producing mostly indica and skunk based cannabis hybrids.
Don't let the age of this seed brand fool you! Mosca Seeds takes pride in breeding cannabis seeds using some of the best genetics in the United States. Many of their seeds now end up on auction sites where they rise in price, well beyond their retail base.
Their reputation as a cannabis seed breeder continues to rise on a daily basis and their seeds continue to sell out as fast as they are bred.
Now The Vault Seedbank has taken great steps to be able to offer you this connoisseur quality seed brand, so that you too may have the opportunity to own this very unique line of cannabis genetics. Do not hesitate to order this line of cannabis genetics!
Firefly was created by Mosca Seeds when they combined their Highlife Cup Award Winning Double Dutch female with an exceptional Cinderella 99 male. The result was a high yielding 70% indica/ 30% sativa hybrid that reeks of heavily scented cannabis.
The scent is best described as a combination of tropical fruity, skunky, and pineapple goodness!
Firefly grows to a medium height and does well indoors or outdoors. The flowering time of this particular strain is 8-10 weeks (60-65 days). Firefly is indica dominant, with shorter plants being very bushy with lots of strong branching.
This strain has high to very high THC content.
The seeds come in regular form as opposed to feminized, which means on average they will produce an equal number of males and females. This is the perfect strain for those who enjoy breeding plants and who want to make seeds of their own for future grows.
Genetics:
Double Dutch x Cinderella 99