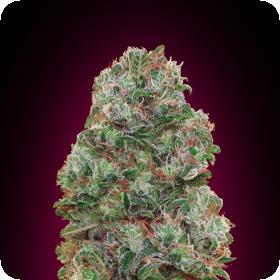 Bubble Gum Feminised Seeds
00 Seeds is proud to offer their take on a classic strain. Bubble Gum is a very unique variety of cannabis that had its beginnings in the United States but found its real audience in Holland where it has been a favourite for years.
The seeds produce vigorous and hardy plants with super-fast flowering capabilities and tight, dense, resinous buds. Most plants finish flowering after just 8 weeks.
The plants feature buds that have a distinct pinkish hue that only adds to their appeal.
The smell is literally like that of classic bubble gum and whether a matter of genetics or a bit of trickery on the part of the brain, most people who have tried it swear it even tastes like bubble gum.
The plants grow somewhat tall with a few lateral branches. Those branches do tend to stretch considerably so adequate floor space in the grow room is a must.
Still, Bubble Gum is an excellent indoor plant and it grows equally well outside. Yields are comparable across all growing methods and environments.
Indoor plants tend to grow a bit shorter, which makes them a good choice for tighter grow spaces.
Production levels are comparable between shorter indoor plants and their taller outdoor counterparts by square metre, so yield is not a huge concern when trying to decide where or how to grow them.
For maximum yields, it is recommended to feed Bubble Gum plants an ample supply of nutrients provide a consistent light cycle, beginning with 18/6 during the vegetative period and switching to 12/12 cycle during flowering.
The seeds have a nearly perfect germination rate and the plants are easy to grow even for beginners. New growers will appreciate the ease of handling while more experienced ones will notice how well they thrive with very little maintenance.