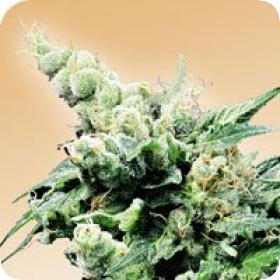 This Hash Plant is a step above your ordinary run-of-the-mill hash strain, it is an Afghani which is descended from a strain which was developed in the Northwest USA and taken to Holland as just a few female cuttings.
Sensi Seeds then worked to develop these fragile cuttings so that they could become an important ingredient in many future hybrids. Over years and years of testing Sensi searched for the perfect father plant which would produce seeds worthy of the Hash Plant name.
Eventually they found a male which met the criteria, this male came from the Northern Lights line, another prominent strain from the Afghanica family. The resulting strain is thought to be one of the strongest results produced by Sensi so far.
The strain was found to have an immensely strong effect even on seasoned Dutch smokers. The strain is compact and fast flowering, it produces flowers which are completely coated in resin and a strong Afghani sent.
This strain comes in regular seeds, regular seeds have not been altered in any way leaving them genetically pure. In the current market genetically altered seeds are certainly taking over regular seeds but there are many breeders and growers who still prefer regular seeds.
Sensi Seeds recognises this and so ensures that they still cater to those who prefer the simple and old-fashioned growing methods. Regular seeds have many excellent qualities such as their robust and independent nature.
Breeders who have attempted to reintroduce cannabis into the wild have always used regular seeds as they are capable of thriving and breeding on their own. For breeders the simplest choice is certainly the regular seed.
Regular seeds will grow into a roughly 60% female 40% male crop, this gives the breeder the opportunity to select the best male and the best female to pass on their genes.
This method of breeding ensures that the breeder has a good amount of control over their next crop's quality and uniformity.
This strain thrives best in sunny or Mediterranean environments, gives a large yield and is a compact plant which makes it perfect for any growers who are not lucky enough to have large amounts of space.
Hash Plant flowers in a mere 40 - 45 days and is 90% Indica as well as being a Cannabis Cup winner.
Please remember that the growing of cannabis plants and the cultivation of seeds is illegal in some countries - please check the laws of your country and don't be growing any plants if it is against your country's laws
Genetics:
Hash Plant x Northern Lights