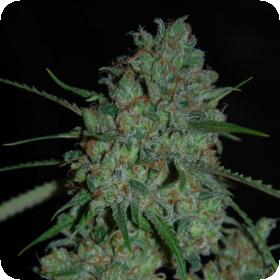 Afghan Skunk Feminised Seeds
Afghan Skunk is a marijuana strain which is highly indica (85%) and originated in the US before it was introduced into Holland in the 1980s.
The Afghani was already a tough and resilient plant, but the addition of Skunk DNA resulted in a plant with incredible hybrid vigour and yields, which were unheard of at the time.
Indoor yields range from 500 to 550 grammes per square metre, whereas outdoor yields of 900 to 1000 grammes per plant are possible when cultivated directly in the ground. 
Because of its vitality, clones (cuttings) are employed in legal commercial grows and promptly placed into flower in order to keep the plant's height under 30 cm. 
A longer time of vegetative growth will result in larger plants for the farmer. 
Indoor Flowering takes 55 days, and harvest in the northern hemisphere will occur in September.
Resin production is excellent, and with THC levels around 18%, you can expect a strong indica effect boosted by its sativa Skunk traits.
With a penetrating aroma, the flavour is sweet, fruity, and slightly spicy.