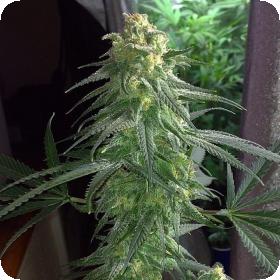 Apollo Eleven Regular Seeds
This strain is a combination between the amazing "Genius" clone and the wonderful Cinderella 99. The result is a uniform, fast flowering plant with an amazing calyx to leaf ratio.
The resin production on this strain is out of this world with an effect to match. The high is seriously upbeat and happy which makes it ideal for a good chill out session or for those who need something to brighten up their day.
The scent is sweet and tropical with a taste to match. This strain is especially recommended for Screen Of Green growing.
This is a regular strain which means that it will grow into a combination of male and female plants. These strains are especially popular amongst breeders who require both genders to breed with ease.
They can select the very best male and female to be the parents of the next crop, meaning that they can tailor the genetics to their own personal taste. Regular seeds are also popular amongst old school growers who prefer to use unaltered seeds.
Apollo 11 is an indoor strain with a flowering time of 55 - 63 days.
Remember that the cultivation of cannabis seeds is illegal in some countries, please check the laws of your country before attempting to cultivate cannabis seeds.
Genetics:
Genius female x Cinderella 99 male