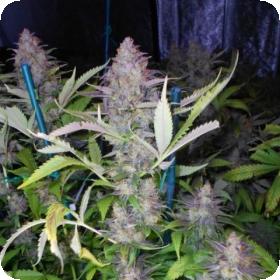 Grapefruit Krush Feminised Seeds
This strain is an F1 hybrid of Bubba and classic Grapefruit, simple yet effective. This strain is Indica dominant and is a vigorous grower that really comes into its own during the flowering phase. The best way to increase the colas is to bend and tie the plant, this will massively increase the yield. The effect is happy, uplifting and creative with a full body relaxation that is second to none.
It is perfect for day and night use due to its social but chilled out effect, whether you fancy a chat or a nap this strain is perfect. The buds are dense, hard and completely coated in a sparkling covering of resin. Over all this is one seriously amazing plant.
Feminised seeds are often popular with growers due to the fact that they will all grow into female plants. This creates one completely productive crop, instead of a crop that is half productive and half completely useless. The males have absolutely no point for anyone who doesn't feel like breeding their own plants. They are actually a massive waste of resources that would be better used on those lovely ladies. It is also true that almost all plants that have been feminised have shown improved quality and uniformity, compared to regular plants.
Grapefruit Krush needs around 8 - 9 weeks to flower and can be grown indoors or outdoors.
Keep in mind that the cultivation of cannabis is illegal in several countries. Please check the laws of your country before attempting to grow cannabis seeds.