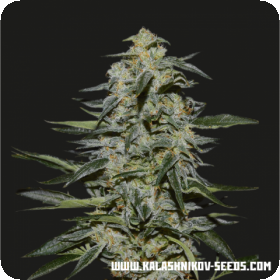 Sweet union of the Afghan "hashish queen" Hindu Kush and Kalashnikov Seeds all-time favourite Kubanskiy Ubiyza led to the creation of a magnificent "Katyusha".
Dark green cones in the radiance of scattered diamond trichomes. One of the most powerful resin producers inherited its loud artillery name for good reason - Katyusha hits you hard, plunging entirely into the sweet enveloping depths of euphoria.
The delicate sweet aroma of sandalwood with earthy notes and dense, rich flavour will be remembered for a long time. Katyusha helps to find a deep sense of calm, ease the pain, nausea and other mental disorders.
Note: "Katyusha" is the Russian rocket launcher, renowned during the battles of the Second World War
Genetics:
Hindu Kush x Kubanskiy Ubiyza