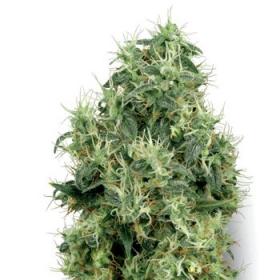 White Gold Feminised Seeds
This strain is an indica dominant hybrid from Sensi White Label that is well known for its impressive yields and heavy resin production, hence the white in the name.
The resin coating is so thick that it is almost viscous, ideal for extraction methods. The scent and flavour are very fruity with a slight spice to them.
The effect is classic indica, powerfully relaxing throughout the body, but with a hint of that lovely cerebral sativa soar. This strain can be grown in a variety of environments but prefers a warmer climate when outdoors.
Even then when it gets colder at night the leaves will turn a beautiful shade of purple.
White Gold is a feminised strain, meaning that it will only grow into female plants. Feminised seeds are perfect for growers that are sick of having to deal with male plants.
Males take up around half of a regular crop and have to be removed before they can harm the female plants. This wastes a huge amount of time, effort and especially money on the part of the grower.
Many also prefer feminised seeds for their increased quality and uniformity. Some breeders also use them but feminised breeding is quite difficult and is only recommended for experienced growers and breeders.
This strain can be grown indoors or outdoors and has a flowering time of 50 – 65 days.
Genetics:
White Widow x Himalayan Gold