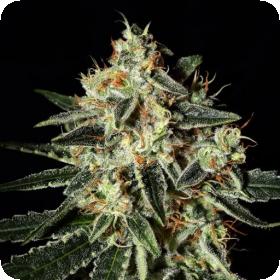 Cheese Feminised Seeds from Green House Seeds Co. This strain first became popular in the late 80s and this has been created from a very particular clone of Skunk #1, making it a must for any Skunk fans out there.
The breeders at Green House Seeds Co. have worked their magic once again to create a genetically enhanced form of Cheese that is higher in yield and vigour, which took first prize at the Indica Cup HTCC in 2006.
This hybrid is known to grow fairly easily with minimal fuss, germination rates are very strong and seedlings should not be an issue either. The plant is very branchy with a vine like growth which requires full support in order to grow.
The result is a large yield with chunky buds that taste and smell as you would expect given its moniker. While Skunk itself is known to be almost sickly sweet, this strain has been altered to take that particular edge away.
Cheese is known to have a very musky and earthy taste, similar to the aroma and taste of its namesake. The high it gives is fascinating; on one hand it is a body-stone that will make you extremely relaxed while at the same time it gives way to bursts of creative and mental energy.
To attain the best possible results from your production Cheese is known to grow better indoors however you can still receive a good return from an outdoor grow. Flowering indoor will occur at a very short 8 weeks with a yield of 800g/square metre.
It is also worth noting that even in its infancy this strain has a pungent aroma so for indoor growth some air filtration may be a wise investment.
As for an outdoor growth the plant will be ready at the end of September in the Northern Hemisphere with a production of around 800g/plant.
Please remember that the growing of cannabis plants and the cultivation of seeds is illegal in some countries - please check the laws of your country and don't be growing any plants if it is against your country's laws.
Genetics:
Big Buddha Skunk phenotype