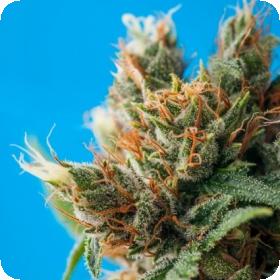 Durban Punch Regular Seeds
Durban Punch has been given its name for a reason. Tropical Seeds set out to create this sativa hybrid by first selecting a genetically-superior Durban female, giving it a very typical sativa vigour and a classic sativa structure and look. It doesn't grow as tall as some sativas, but indoor growers should definitely take note of the height.
The other parent in this genetic mix is Ciskei P3. The breeder actually back-crossed a Durban Poison x Ciskei P3 hybrid with another Ciskei P3 to get Durban Punch which makes it particularly productive and more potent than either of the parent strains alone.
Since we brought up the height, it's important to note that one of the other goals with this strain was to keep the height under control. The plants will grow best indoors in environments with high ceilings and also prefer soil over hydro according to a majority of growers. They will flower best under a 12/12 light cycle, making them very typical of most strains.
Outdoor growers will find these plants particularly easy to work with since they require so little pruning or extra care. They will also produce a bit better outdoors and have a fast flower time for a sativa. Most plants are ready after 75-85 days of flowering.
The aroma of Durban Punch is a rich combination of commonly-sativa smells ranging from flowers to wood, even a touch of anise and carrot. The flavour is all sativa and very pleasing to the palate. The effect is potent but not overwhelming - very pleasant and uplifting and lasts a good long while.
These seeds are very reliable and the plants clone well, allowing the grower to extend his or her investment considerably and produce a large quantity of high-quality product at a comparatively small price.