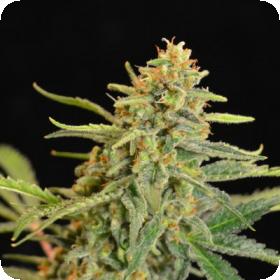 Golden Child Regular Seeds
This strain is an improvement on the already very popular Highland Oazaca Gold. Despite her amazing quality she is a little let down by her small yields and slow growth. This is where Chelumbian comes in and makes this into a super strain.
Now growers can enjoy all the amazing quality of Highland with plentiful yields and speed of Chelumbian. The flavour is a combination of pineapple and earth with a perky and enlightening effect.
This is really an every man strain as it is guaranteed to make anyone happy, there's a reason it is known as the Golden Child.
Golden Child is a regular strain which means it will grow a combination of male and female plants. It is also photo period and will require a light cycle in order to flower. Most traditional breeders and growers still much prefer regular seeds to their flashier alternatives.
They are especially good for breeders due to the roughly even split of male and female plants. This gives the breeder a lot of choice when it comes to selecting the parent plants for the next crop.
Plants will always pass on their best genetic material, and so if the very best plants are selected as parents the quality of the crop as a whole can be improved.
This strain needs just 8 weeks to flower and can be grown indoors or outdoors.
Remember that the cultivation of cannabis seeds is illegal in some countries, please check the laws of your country before attempting to cultivate cannabis seeds.
Genetics:
Highland Oaxaca Gold x Chelumbian