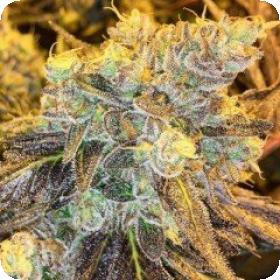 This strain from Karma Genetics is an indica dominant strain that was created by crossing Girl Scout Cookies, Cannardo's Cherrie Pie and KamaRado OG. This was primarily to up the Kush influence in the strain, and it worked.
This strain is an award winner and won 1st place in the Best Indica category at the 2015 Amsterdam Elite Cup.
Headstash has a powerful indica effect which makes it an ideal nighttime strain, perfect for really chilling out.
Headstash is a regular strain, which just means that it will grow both male and female plants whilst also requiring a light cycle in order to flower. Regular seeds are ideal for breeders, who still need the male and the female in order to breed easily.
The split of genders is about equal, giving the breeder tonnes of choice when it comes to selecting the parent plants.
These parents should be the best in the crop, which in turn will make the next crop even more impressive. This is also a great way to breed out any undesirable traits in the crop.
This strain has a flowering time of 9 - 10 weeks and can be grown indoors or outdoors.
Remember that the cultivation of cannabis seeds is illegal in some countries, please check the laws of your country before attempting to cultivate cannabis seeds.
Genetics:
Girl Scout Cookies x Cherrie Pie x KarmaRado OG x Biker Kush